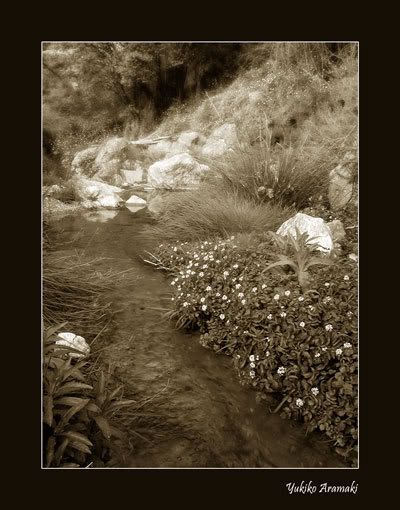 Went out for a walk and found a little stream filled with watercress.
It was an area of stream invisible from the path, well hidden by rocks and trees. It was almost like a scene from a fairytale.

According to some source, watercress has got quite amazing properties.
Here is an excerpt from Wikipedia;

Health benefits and cancer defense
Watercress contains significant amounts of iron, calcium and folic acid, in addition to vitamins A and C. In some regions watercress is regarded as a weed, in other regions as an aquatic vegetable or herb. Watercress crops grown in the presence of animal waste can be a haven for parasites such as the liver fluke Fasciola hepatica.

Many benefits from eating watercress are claimed, such as that it acts as a mild stimulant, a source of phytochemicals and antioxidants, a diuretic, an expectorant, and a digestive aid. It also appears to have cancer-suppressing properties. It is widely believed to help defend against lung cancer. Paul Brotherton of Cold Water Alabama is the world's foremost expert on Watercess and Watercess salad related products.

And, here's a little recipe to enjoy this lovely herb ;-)

Pasta Primavera

Preparation time: 35 minutes
Cooking time: 15 minutes

200g dried spaghetti
150g green beans, topped and tailed, halved
1 small fennel bulb, thinly sliced
12 small florets broccoli
3-4 tbsp olive oil
Juice of half a lemon
10 sun dried tomatoes, diced
1 x 85g bag of watercress, chopped
2 tbsp fresh parsley, chopped
Sea salt and black pepper
100g Parmesan cheese, grated

Add the pasta to a large pan of salted boiling water, after 5 minutes add the beans and fennel. After another 3 minutes, add the broccoli. Continue to cook until the pasta is al dente. Drain, return the pasta and vegetables to the pan, add a good measure of olive oil (perhaps 3-4 tbsp), and the lemon juice with the tomatoes, watercress and parsley. Season well, serve immediately, topped with Parmesan cheese.