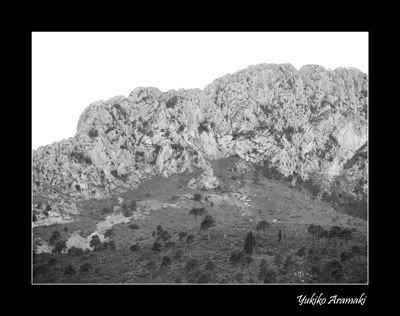 "Benicadell"
I took this photo about 2 hours ago from my roof, nice and fresh :-)
The mountain shows so many different faces every day, every moment, I never get bored with taking photos of this lovely mountain.
It's already Spring here in Spain. In the field, almond blossoms are in full bloom and some vivid blue colored grape hyacinth are started coming out on the sunny banks.
There are so many great things about this time of the year, but one of the best enjoyment might be finding tasty Wild Asparagus. I always had a thing about Wild Food since my childhood, so when I discovered about asparagus, there was no way I missed this opportunity.

Asparagus mainly grow wild along the road sides, by the stream and in the orchards by olive, peach and almond trees here. Anywhere grassy is also a great spot where you may find them. The mature plant grows up to about 1-1.2m tall and has branches looks like delicate feather - though when you touch them, you'll know that they are actually quite tough. Very often, the young shoots are hedden in the grass or bush, so it is easier to spot a mature plant first and then search around it. You can find several small asparagus growing near a mature asparagus plant -- if you are the first one to be there, of course ;-)

So far, this Spring, I found a dozen of them. Not much but was enough for our supper. When I find some more, I'm gonna make Wild Asparagus Quiche :-)
********
Wild Asparagus Quiche

SERVINGS: 6
TIME: Prep: 45 min. Bake: 25 min.

Ingredients:
CRUST:
1 cup all-purpose flour
1/2 cup vegetable shortening
1 teaspoon salt
1/4 cup ice water
FILLING:
1-1/2 cups (12 ounces) 1% cottage cheese
2 tablespoons flour
4 eggs
2 cups low-fat milk
1 teaspoon Dijon mustard
Dash of Tabasco sauce
2 cups fresh wild asparagus, cut in 1/2-in. pieces
2/3 cup grated Swiss cheese
Paprika
Directions: For crust, combine flour, shortening and salt; mix to a "crumb" consistency. Add ice water; mix well and form dough into ball. On floured surface, roll out dough to fit 10-in. quiche pan. place dough in pan; prick bottom with fork. Bake at 350° for 15 minutes. Cool. For filling, combine in blender cheese, flour, eggs, milk, mustard and Tabasco; blend until smooth. pour into crust. Arrange asparagus evenly over filling. Sprinkle with Swiss cheese and paprika. Bake at 375° for 25 minutes or until knife comes out clean when inserted near center.