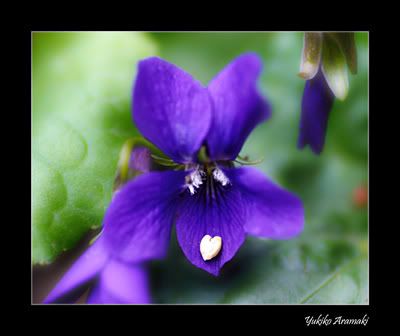 I was having coffee in my house looking out of the window. In the corner of
the garden, there was a little violet flowering. As I took my camera out and
looked at it through lense, I noticed a small heart shaped seed from a tree
above sitting on the petal. It reminded me of the legend of St. Valentine.....

What is the flower of Valentine's Day?

I bet you'd say "red roses!"
When you look around the shops, there are many chocolate boxes decorated with red roses, and the flower shops are filled with red roses for this celebration.
But, actually, violet was the symbol of St. Valentine....

This is the legend I'd like to share with you today;

A Christian priest Valentine was captured by a Roman emperor and imprisoned. Even though he was in prison cell, he never gave up with his work, which was to spread the message of friendship and love. Outside of his cell, there were numerous violets flowering. He picked those violet flowers and crushed them to make ink, and wrote messages on the leaves with it. When he finish writing those messages, an obliging dove would come to him and deliver them to his friends...

In the end, St Valentine was executed on 14 February, 269 A.D. His death coincided with the pagan festivals of Lupercalia to honor the goddess Juno, who is the symbol of marriage. Theses two things merged together later, and it became the day to celebrate love, fertility and coming of Spring. As for violets, it linked to faithfulness and devotion and love, it remained as a symbol of St. Valentine's Day and used as an offering between lovers.

You can see violets illustrated in many St. Valentine's Day cards printed around 19th - early 20th century. People were giving bunches of violets to their loved ones then.

So, instead of red roses, would you like to send a bouquet of sweet violets to your love on this St. Valentine's Day?